WHY BUY ME?
360° Rotating Seat
State-of-the-art safety performance, by complying with the latest i-Size (R129) car seat regulation, and 360° rotating seat system makes entering and switching ride positions incredibly easy. It will take only a few seconds to secure your child facing you, then rotate the seat into the desired position. Simple and secure to fit using a car's ISOFIX anchor points.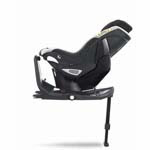 Extended Rear Facing
Rearward facing. From 40-105 cm.(approx birth to 4 years old). Newborn cushion insert for 40 to 60 cm (baby) included. Babies travel much more safely in the rearward facing position until they are at least 15 months old, although Jané recommends extending the use of this position for as long as possible, until the baby is 105 cm.
Forward Facing.
Forward facing. From 15 months up to 105cm. With the new Gravity from Jané you can travel in the forward facing position, although here at Jané we recommend delaying the use of this second position for as long as possible.
One Hand Recline
Reclining function with just one hand. 4 positions in both the rearward and forward facing position. With the reclining adjustment you can choose the most comfortable position for your baby. All of them are equally safe.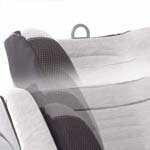 Synchronised Adjustment
Fitted harness and headrest that provide synchronised adjustment. 5-point harness that spreads the loads across the body better in the event of an accident. For newborn babies up to 60cm. Fitted with a cushion insert to correct the angle of the baby's back.
Isofix + Anti-Rotation Leg
Isofix+anti-rotation leg. This is the safest installation position, as it prevents any installation errors that could affect safety. Fewer installation risks compared to seats installed with the vehicle seat belt.
Adjustable Headrest
Adjustable headrest with 5 positions. The headrest can be adjusted to suit the baby's height. The height adjustment mechanism can be used while the baby is in the seat.
New-Born Insert Included
Newborn cushion insert for 40 to 60 cm baby's is included. Easily removed for washing or when baby out grows it.
Offering the absolute maximum in car safety
The fabulous new Gravity iSize car seat is the latest addition to the complete CRS range from Jané. This innovative seat with all its advanced features was developed in the Jané Crash Test Research Centre where our seats can be tested up to 250 times before being put on the market and where we stage crashes equivalent to 85 km/h (53 mph) in the car - much higher than the European Safety Regulations of 30mph or the ADAC crash tests at 40mph.